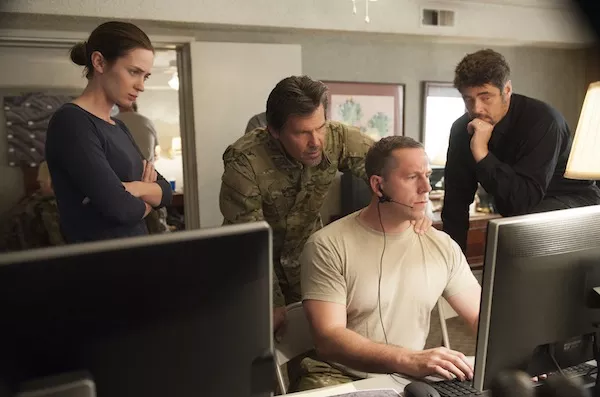 Despite high ratings on Rotten Tomatoes and Metacritic, the new film Sicario may not be for everyone. However, the film is beautifully put together with an eerie but satisfying soundtrack that highlights the subjuct matter. Del Toro gives an amazing performance as a cartel specialist, and Emily Blunt does a decent job as well as a woman FBI agent who is thrown into the thick of things on the U.S. border.
Sicario is an important film on a subject matter that's all too recent-the many problems facing the U.S. Mexican border. The film focuses on mostly the involvement of human trafficing and the Cartel there. Above all is, Sicario is an eye opener to what life is like, especially on the Mexican side of the border.
The film is ancored by powerful actors giving the film their all, especially Benicio Del Toro. Emily Blunt is outstanding as well but not as great as the lead actor, and Josh Brolin could have done alittle bit better with the role he was in as well.
What works best about this film is the eerie but magnificatiant sound track. It fits right in with everything that's going on with the movie, and it captivates you throughout the film.
On the rough edges, the movie can be a bit slow at times, and the script is a bit lose revolving around some of the characters, including Blunt's.
The entire film could have been done a little better, but for what it is it's a haunting look at life around the wall at the U.S. and Mexican border. It's a film worth watching on the topic alone, and polotical movie goers won't be dissapointed.